Results of applying big data techniques to support mission of Florida Poison Information Center Network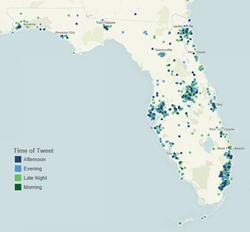 This is an amazing project. Applying data modeling techniques to the large data sets is revealing many valuable insights. – Katie Bakewell, Data Scientist, NLP Logix
JACKSONVILLE, FL – OCTOBER 08, 2014
When leading public health officials meet at the North American Congress of Clinical Toxicology in New Orleans October 17 through October 20, they will have the opportunity to see the preliminary results of one of the largest applications of data science in clinical toxicology. This project, which is the result of a contract with Jacksonville-based NLP Logix through the University of Florida for the Florida Poison Information Center Network, is designed to gain valuable public safety insights in the vast volumes of data collected by state, local and federal public health organizations.
"This is an amazing project," said Katie Bakewell, Data Scientist, NLP Logix. "Applying data modeling techniques to the large data sets is revealing many valuable insights."
These large data sets include eight years of every hospital encounter for every patient in every hospital in the State of Florida, call information from the Florida Poison Information Center Network, the US Census data and even Twitter data, to model using social media to provide public health officials with additional detection capabilities.
"One of the biggest challenges of this project has been assisting the American Association of Poison Control Centers who mapped poison-related codes utilized nationally by the 55 Poison Information Centers to the diagnosis codes used by hospitals," said Ben Webster, Data Scientist, NLP Logix.
The presentation in New Orleans will include NLP Logix demonstrating how they were able to apply predictive modeling and other data science techniques to deliver insights to front-line public health professionals. This combination of large and previously silo'd data sets has been blended to provide actionable insights and delivered through a data visualization tool,
"We are very proud of the work we are doing for the Florida Poison Information Center Network. It is fun to see our work directly helping them educate the public, reduce healthcare costs and most importantly, save lives," said Bakewell.